Nanjing Shuangmenlou Hotel (南京双门楼宾馆)
Nanjing Shuangmenlou Hotel is the former address of British Embassy in China. It has a long history dating back to 1916 and covers an area of 30,000 square meters. The hotel has a variety of precious flowers and trees, with green pine trees and maidenhair trees standing firmly and beautiful flowers blossoming all the year round. It is a garden-styled hotel boasting both modern and western architecture as well as nice and peaceful environment. In 1953, it became the appointed foreign-oriented hotel including the reception of many foreign guests, such as West German Chancellor Schmidt, President of Zambia Kaunda, and so on. Now it is affiliated with Foreign Affairs Office of Jiangsu Provincial People's Government. Nanjing Shuangmenlou Hotel, which is located in No.185, Huju North Road, also the intersection of Huju North Road and Zhongshan North Road, has very convenient transportation.
南京双门楼宾馆原址为英国驻华大使馆,始建于1916年,现占地面积3万平方米。馆内名贵花木繁多,绿草如茵、苍松银杏、四季花卉,是一个容现代建筑与欧式建筑为一体,环境幽雅,庭院别致的园林式宾馆。1953年,宾馆成为江苏省人民政府定点外事宾馆。曾接待过西德总理施密特、赞比亚总统卡翁达等外国贵宾,现隶属于江苏省人民政府外事办公室。双门楼宾馆位于虎踞北路185号,在虎踞北路与中山北路交汇处,新建城市内环西北角,交通十分便利。
Taxi to Nanjing Shuangmenlou Hotel
From Nanjing Lukou International Airport (南京禄口国际机场) : distance 47.5KM. The price will be around 150RMB (day) and 200 (after 23:00) includes an expressway toll. It will take 1.5 hour if there is no traffic jam.
From Nanjing South Railway Station (南京南站) : distance 16.4KM. The price will be around 50RMB (day) and 70 (after 23:00). It will take around half hour.
From Nanjing Railway Station (南京火车站) :distance 6.3KM. The price will be around 25RMB (day) and 40 (after 23:00). It will take around 20 minutes. You can show the Below information to taxi driver:
For more information, please visit Nanjing Shuangmenlou Hotel.
Venue Location (View in Google Map)
You can show the Below information to taxi driver: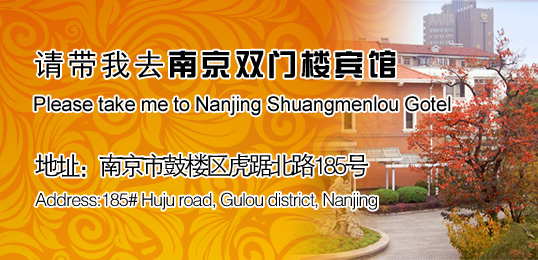 Accommodation:
A : Nanjing Shuangmenlou Hotel (Conference Venue, Four Stars)
南京双门楼宾馆(会议所在宾馆,四星级)

Price:
NO.1 MAIN BUILDING
Signal Room (including Breakfast) 420 RMB/Day
Standard Room (including Breakfast) 450 RMB/Day

NO.2 WEST BUILDING
Signal Room (including Breakfast) 350 RMB/Day
Standard Room (including Breakfast) 380 RMB/Day
http://www.smlhotel.com/
B: Fangyuan Jinling Hotel (Five mins walk, Four Stars)
方源金陵国际酒店(距会场步行5分钟,四星级)
Price:
Signal Room (including Breakfast) 488 RMB/Day
Standard Room (including Breakfast) 488 RMB/Day
http://www.officialhotel.cn/gh/13173
The conference will supply the booking service for Shuangmenlou hotel and Fangyuan Jingling Hotel. The BESC participants will get discount price. If you want book a room in the two hotels, please send the booking form(English) to besc2015@163.com before 30th September. The title of email should be "BESC hotel booking".
组委会向参会者提供双门楼宾馆和方源金陵酒店两处的预定服务,并为BESC参会者提供优惠价格。如果您需要预定这两个宾馆的房间,请您于10月30日以前填写住宿预定表并发到besc2015@163.com (邮件主题请使用"BESC住宿预定"字样)